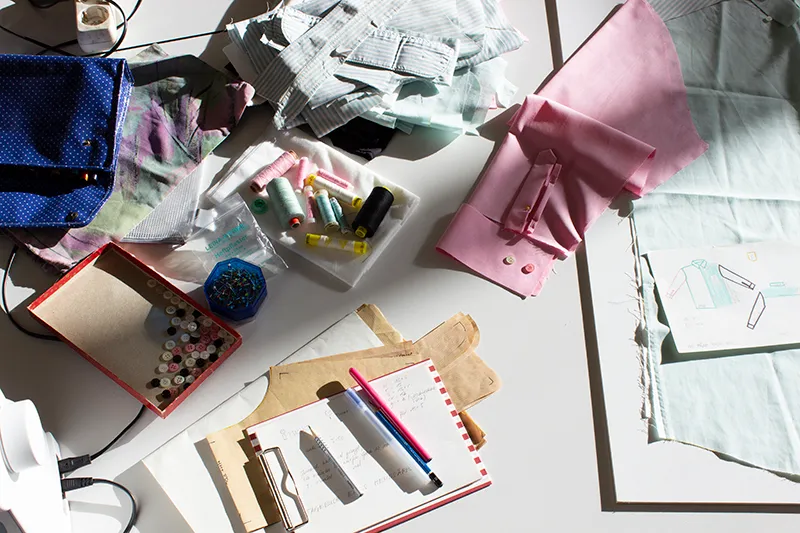 hands.on.matter: My Conditions Are... (2020) Work Process (Yvonne)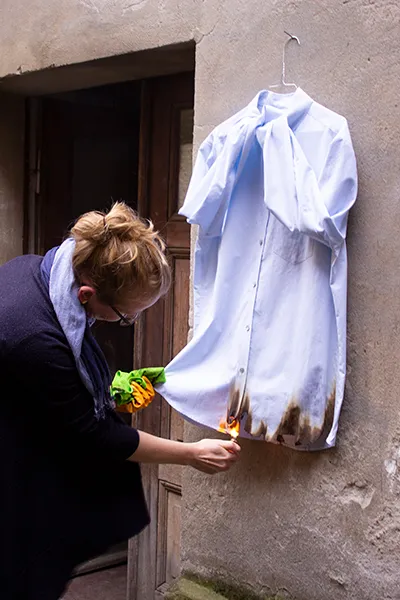 hands.on.matter: My Conditions Are... (2020) Work Process (Katja)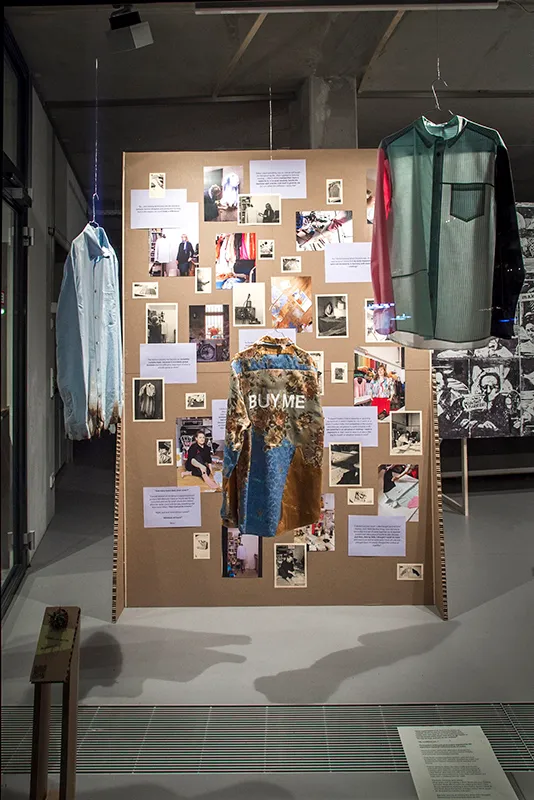 hands.on.matter: My Conditions Are... (2020) Exhibition, Foto © Patricia Escriche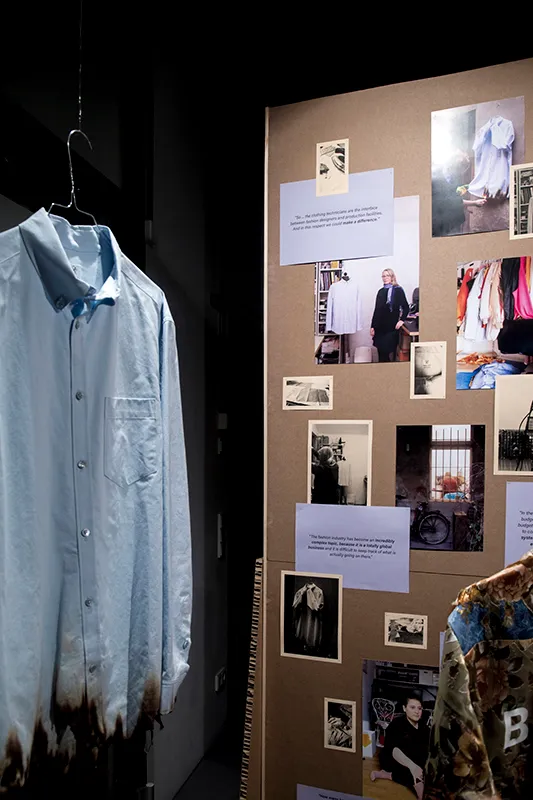 hands.on.matter: My Conditions Are... (2020) Exhibition, Foto © Patricia Escriche
We started this project by asking ourselves: How is care manifested? How does one practice care? As we work with material activism with the specific purpose of elaborating on circular material thinking and local production, we thought about one thing that we all use extensively, but is very rarely locally made: textiles and garments. Yet there are so many people in Berlin working in this field. We wanted to build an understanding of people that live in Berlin and make clothes in Berlin. Because what is or should the process of making a piece of garment be? What care goes into it? If we understand the care and effort that ideally goes into what we wear would we then also care more for it? And for the people who made it?
My conditions are… is a participatory anthropological project where three Berlin creative workers, with each their background, voice their opinions, experiences, hopes and dreams for the fashion industry in Berlin and their own futures. Fashion designer, Melis, the tailor, Katja, and the DIY enthusiast and volunteer, Yvonne, show the journey of making a shirt. With the starting point of the design of a typical 20€ shirt, each of the creatives got commissioned to make their own version of this generic garment. How do the garment makers reflect their skillset, time and creativity to the fast fashion that is generated and is (almost) impossible to compete with?
MELIS
"Creativity is not one short moment where you are creative – and 'ping!' – it is done!"
Melis is a fashion designer who was born and raised in Berlin. In her shirt, Melis sheds light on a ray of contradictions in the fashion industry. She thinks that what you are promised when you study to become a fashion designer is very far from what meets you in the industry. Creativity is replaced by tight frames of what and how to deliver.
Blooming flowers and golden chocolate wrap paper shows us the many glooming promises. The other side of the medal though leaves no space for the fashion designer to emotionally connect to her work – emotions that are completely fundamental to that of being a good fashion designer.
The era of the genius fashion designer is over. The loss of seriousness that came with this glorious talent has consequently changed the narrative as well as the quality of what is made in the industry. A new cheap t-shirt of whatever textile, without much thought, quickly substitutes the old one. What is left is a fashion industry struggling to reinvent itself.
The shirt is made from textiles Melis found in Italy at a store where the fabrics were always accompanied with a story. Melis told that she felt intuitively guided by the different fabrics she has gathered over-the-years.
YVONNE
"I basically enjoy creating. I like to think about what I need, or what I would like to have. I think about what material I have, and what I can make of it."
Yvonne is a DIY enthusiast and volunteering at a charity organisation, in the demanding role of collecting, sorting and packing second-hand clothing.
In her volunteer job Yvonne experiences that a lot of the clothes cannot be used in its existing shape and size. By teaching herself new skills Yvonne works on repurposing the clothes that cannot be given away as it is.
At the charity, Yvonne sees masses of clothes that are difficult to repurpose. Therefore her idea for making the shirt was to make use of second-hand shirts that are otherwise not useful. Either because they are stained, torn or too large. She took elements and intact surfaces from 6 different shirts in order to create, what she calls, a Frankenstein-like patchwork shirt.
Yvonne says that there is an alarming amount of consumption. Being at the receiving end at a sorting central lets Yvonne see the scale of the problem first hand on an everyday basis. For her the issue is obvious: too much is consumed and it is happening at a pace too high.
KATJA
"My idea was that you should actually produce more on demand – not produce, and then see if somebody buys it, and then throw the rest away."
Katja is a tailor by education. It took her some years to find her path and make her move from self taught to professionally trained tailor. Now she got into it she feels she has a flair for the field and is expanding on her education to get even more involved in the industry.
But she is feeling the pressure of having to deal with and eventually change the industry, because it is a system she does not identify with, nor see herself in, as it looks in its current form.
The fact that garment companies burn tons of clothes is one of the major problems Katja emphasizes with her shirt. This incineration is apparently cheaper than storing or bringing clothing into sustainable cycles. To underline this point Katja burned the edges of the shirt she already finished perfectly:"I would like to burn my own work and also design it in such a way that it is still wearable and hopefully looks nice. I hope that the people who will see the shirt will get a bit startled".